Elvis' Bad Nauheim
20. January, 2022

-

23. January, 2022

kr579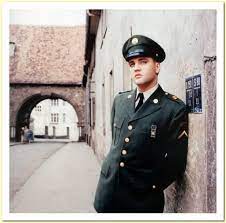 Follow in Elvis' footsteps and go to a concert with The TCB Band
The tour goes to Bad Nauheim, where Elvis lived during his military service. Although he only lived there for a year and a half, he has managed to make his mark on this charming German town.
On the tour we will see, among other things, the villa that Elvis lived in on Goethestrasse; that is where he stayed when he could not be at peace at the barracks. A number of pictures of Elvis have been taken in and around the house. See, among other things, the books "Private Elvis" and "A Date With Elvis", which are exclusively about Elvis' time in Germany. Elvis also made a lot of home recordings while living in Goethestrasse. Many of these can be heard on the FTD CD "In A Private Moment".
Of course, we will also visit the barracks in Friedberg, the Elvis statue, the railway station where scenes were filmed for the film "G-I. Blues" and much more.
There will also be ample opportunity to sniff out the fantastic atmosphere that the city has and visit some of the many cozy little buns in Bad Nauheim.
You will experience The TCB Band members Glen D Hardin and James Burton as well as The Imperials, Holliday Sisters, Donna Presley and not least Dennis Jale and his band. You get to meet these legends "one on one" but also at a great live concert.
There are few seats left.
Related Events