GARDEN PARTY – ELVIS EXTRAVAGANZA
4. November kl. 18:00

-

6. November kl. 17:00

269€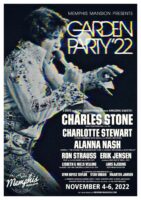 GARDEN PARTY 2022!
Friday, November 4, Saturday, November 5, and Sunday, November 6.
Three days dedicated to Elvis.
Charles Stone. Elvis' tour producer in the seventies.
Charlotte Stewart. Stars alongside Elvis in the movie Speedway. Although she's been in a lot of tv-shows, like Twin Peaks, and Beverly Hills 90210, she's probably best known as Eva Beadle Simms, the school teacher in The Little House on the Prairie.
Alanna Nash. Author to multiple acclaimed books about Elvis and Colonel Parker.
Ron Strauss. Pilot on the Lisa Marie airplane between 1975-1977.
Erik Jensen: "After Aloha!". Has experienced 10 concerts with Elvis in August and September 1973.
Lisbeth & Niels Velling: "The Last Farewell". Attended the last two concerts with Elvis ever, on June 25 and 26 1977 in Indianapolis. .
Lars Gjeding. Mega collector of Elvis.
Lynn Royce Taylor. Artist from Nashville, with an amazing voice.
Rock'n'roller Stan Urban. A super talented entertainer, Stan is guaranteed to light up any party!
Maarten Jansen with band. It's a party when Maarten uses his amazing voice and charisma to sing all the songs you love.
Talks, concerts, Meet & Greet, autograph sessions, photo-ops, auctions, get-togethers, and much more.
Please contact the Elvis Shop at info@memphismansion.com regarding ticket sales and prices.
Overnight accommodation is not possible at Memphis Mansion. We refer to accommodation options in and around Randers.
Tickets purchased in 2020 and 2021 will automatically be converted to 2022.