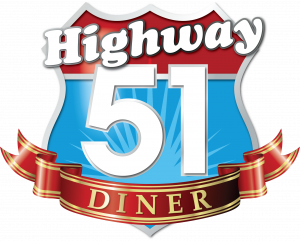 Highway 51 is our American Diner, where all our menus are inspired by southern food. Feel the atmosphere and get unforgettable tastes.
GRACELAND RANDERS VEJ 3
8960 RANDERS SØ
OPENING HOURS
Mon-Wed 11am-8pm
Thur 11am-9pm
Fri-Sat 10am-9pm
Sun 10am-8pm
Do you want to book a table?
Highway 51 Diner is an American diner with a menu inspired by southern food.
You experience the real diner vibe with a twist of Elvis as soon as you walk in the door.
Our menus are named with Elvis in mind. Of course, we also have Elvis' favorite sandwiches on the menu, as well as his favorite soda.
The first Highway 51 Diner saw the day light in 2011 and today counts diner, banquet rooms and meeting activities.
You will find the Highway 51 Diner in Randers and Aarhus.
Mon-Thur 11am-1pm
Fri-Sun 10am-1pm

Remember that you can also order as

Do you want to book a table?