The Fan Club has existed since 1990 and is one of the oldest and largest in the world. We are a community of fans who, together and in every way, find interest and joy in Elvis Presley, his life, music and work.
30 YEARS
The Official Elvis Presley Fan Club Of Denmark can celebrate its 30th anniversary in 2020.
ELVIS NEWS
The fan club has since its inception published the magazine Elvis News. The magazine is published four times a year and is a delicious 60-page magazine with great pictures and lots of exciting news, interviews, reviews and much more about Elvis.
FAN CLUB DAY
A fan club day is organized 2-3 times a year at Memphis Mansion. Here you are updated on news from home and abroad as well as news from Memphis Mansion.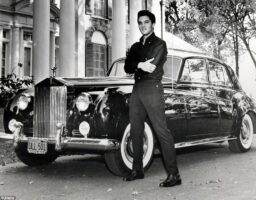 WITH YOUR MEMBERSHIP FOLLOWS A MEMBERSHIP PACKAGE CONSISTING OF
1 X PERSONAL MEMBERSHIP CARD
1 X ELVIS NEWS FANCLUB MAGNET
1 X DVD "VILLUM AND SCHMIDT IN ELVIS' FOOTSTEPS"
1 X SUMMARY BOOKLET
In addition to the membership package, a membership to Elvis News gives you a discount in the Elvis shop on Graceland Randers Vej, on the webshop and at selected events. You receive newsletter and you get access to our Facebook group; Elvis News Denmark, where you are updated with all sorts of Elvis news and are part of a larger community. You will also get special offers on Elvis products.
On our Facebook group; Elvis Trade Center, you have the opportunity to make a good Elvis trade where you can both sell and buy. Of course, you also get an annual pass to the Elvis Museum at Memphis Mansion.
And last but not least, you get the opportunity to collect brands and receive cool gifts from Elvis News Fan Club. Read more here